Environment´s information
The environment of the Council of Cabrales and all the National Park of the Peaks of Europe offer the possibility of do mountain routes of different duration and difficulty. It is worth to highlight the Route of Cares that it is the most awesome hiking route of Asturias that begins in Poncebos, 6 km far away from Arenas de Cabrales by the AS-264. Likewise, in the term of Concejo de Cabrales there are so emblematic places as the Peak Urriellu (Orange Tree of Bulnes), the famous village of Bulnes with its funicular and its isolation in the middle of the mountains.

From the Council of Cabrales is tempting, inside the Central Solid of the Peaks of Europe, the climb to different peaks that exceed the 2.000 m, such as the typical Orange Tree of Bulnes. The area is very good for the speleology of amateurs or professionals in caves and chasms. Cares promotes the descent by canoes or boats of rafting. You can practice paragliding, hiking or mountain bike, horseback ridings, etc…
 
Arangas de Cabrales - Cabrales
The environment of Council of Cabrales and all the National Park of the Peaks of Europe, offers the possibility of doing mountain routes of different duration and difficulty. The Route of Cares must be highlighted which is the most awesome walk route from Asturias which begins in Pincebos, 6 kms from Arenas of Cabrales through the AS-264. From the XVII-XVIII centuries the House of Navariego and the Big House of Santón highlight. The church is from the Gothic factory with a highlighted ogive window. There is a yew planted half a century. In the neighborhood of Traslacasa there is medieval architecture such as the Fountain of the Infant, legends focus. The famous cheese of Cabrales is most popular gastronomic product of the council.
Tours
The church of St María de Llas, Palace of Navariego, Palace of Mayorazu, Palace of the family Díaz de Iguanzo, Cheese museum cave, Lakes of Covadongas, Peaks of Europe, etc…
Activities
Watching of fauna and flora, mountain climbing, horseback riding, hiking –trekking, canoeing, mountain bike –BTT, rappel, climbing, speleology, descent of canyons, descent by canoes, etc…
WHERE TO GO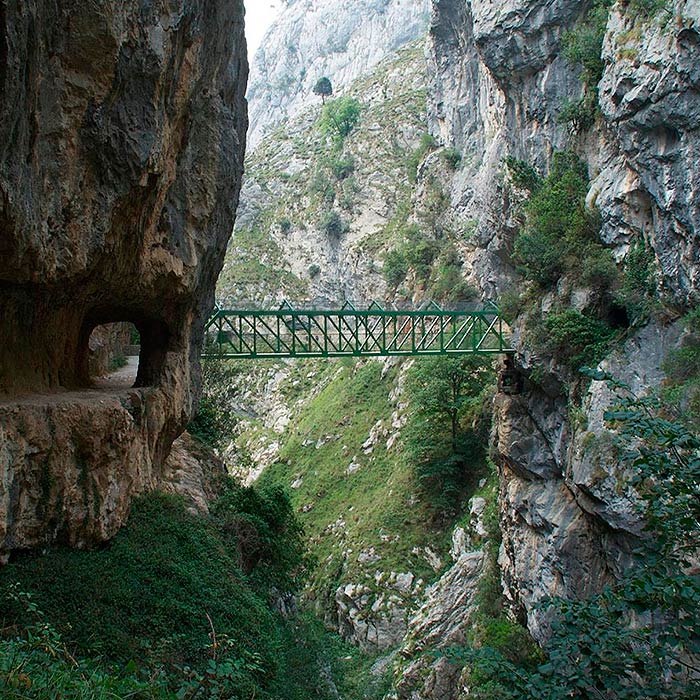 Ruta del Cares
Sin duda alguna es la ruta más conocida y más transitada de todos los Picos de Europa. La ruta se puede hacer saliendo desde Poncebos(Asturias) o desde Caín. Aunque la verdadera Ruta comienza en Posa...

Lagos de Enol o de Covadonga
Los Lagos de Covadonga, denominados Enol y La Ercina, son de origen glaciar, se encuentran en el Macizo Occidental o del Cornión, dentro de Los Picos de Europa, a ellos se llega por carretera y son pu...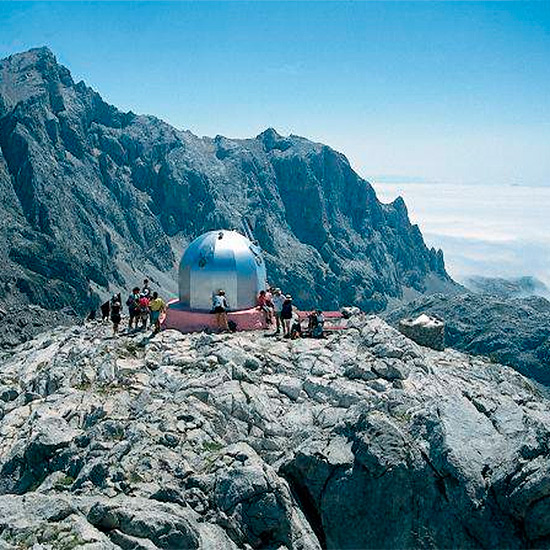 Teleférico de Fuente Dé
En el corazón de los Picos de Europa, el Teleférico de Fuente Dé, que salva un desnivel de 750 metros, situando al viajero en los 1.850 metros de altitud en tan sólo 3 minutos y 40 segundos. Panorámic...